Ecobody Technology
About Ecobody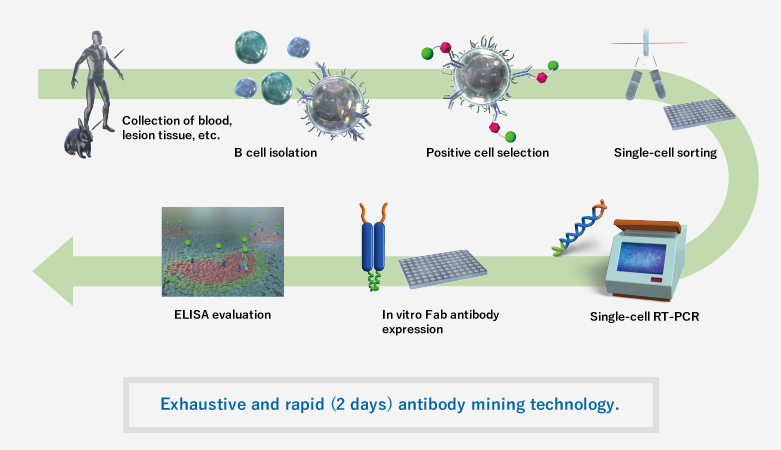 "Ecobody" is a technology developed at Nagoya University, Japan, enabling us to obtain and evaluate useful antibodies produced in humans and animals exhaustively and rapidly.
Benefits of "Ecobody" Technology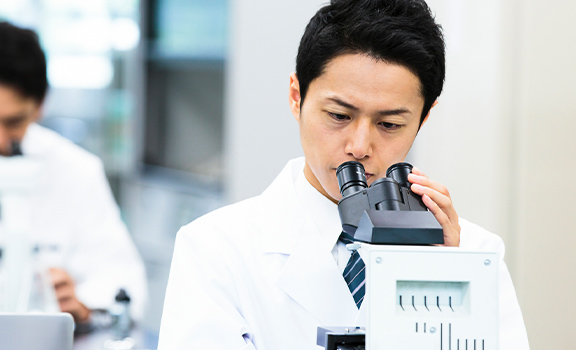 With "Ecobody" technology, we can obtain monoclonal antibodies individually from single human and animal B cells.
Unlike conventional technology, our technology does not require immortalization or proliferation of B cells, avoiding cell loss. Therefore, we can mine monoclonal antibodies while maintaining the original diversity seen in humans and animals.
In addition, while conventional antibody expression systems use living cells that cause heterogeneity in expression levels, "Ecobody" technology uses a cell-free system to express antibodies, resulting in homogeneous antibody levels.
Our technology contributed to the exhaustive and rapid (2 days) evaluation of antibodies without decreased diversity.
Please see the video below and references for technical details.
Related Patents
・Tagged antibody(Japan Patent No. 6744670)
・Protein Expression Method(Japan Patent No. 6681625; U.S. Patent Number: 10975376)
※iBody has been granted an exclusive global license for these patents from Nagoya University.
Features of Antibody Mining Technologies
| | Ecobody | Hybridoma | Phage Display |
| --- | --- | --- | --- |
| Animals | Rabbit, Human | Mouse | Not used |
| Time | 2 days※ | A few months | 7 weeks |
| Culture | Unnecessary | Necessary | Necessary |
| Core Technology | Single-cell technology and in vitro antibody expression | Cell fusion and culture | Bacterial expression |
| Native Antibody Isolation | Possible | Possible | Impossible |
※Excludes the animal immunization period
Rabbit Monoclonal Antibody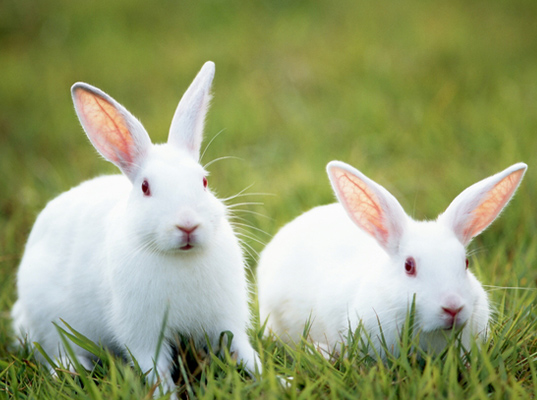 Rabbits produce antibodies against a wider variety of antigens with higher affinities than mice, which are used by conventional antibody production methods. Furthermore, rabbits are suitable for producing antibodies that bind to low-molecular-weight compounds with high affinity and distinguish small amino acid differences and protein modifications.
Thus, the generation of rabbit monoclonal antibodies is a powerful option when the desired antibody cannot be obtained from mice.
Achievements of monoclonal antibody mining from rabbits using "Ecobody" technology
Monoclonal antibody binding to a low-molecular-weight compound
Obtained monoclonal antibodies recognize a low-molecular-weight bioactive substance with high affinity and specificity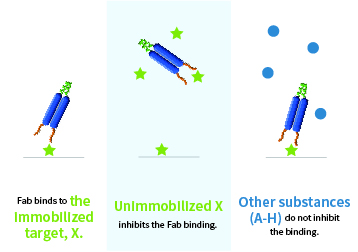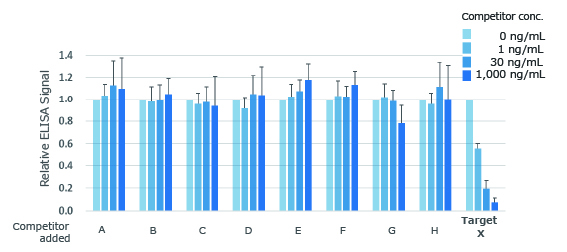 Unimmobilised target substance (X) inhibits the antibody binding, whereas other related substances (A-H) do not.
Monoclonal antibody detecting a post-translational modification
Obtained monoclonal antibodies specifically detect the protein phosphorylation.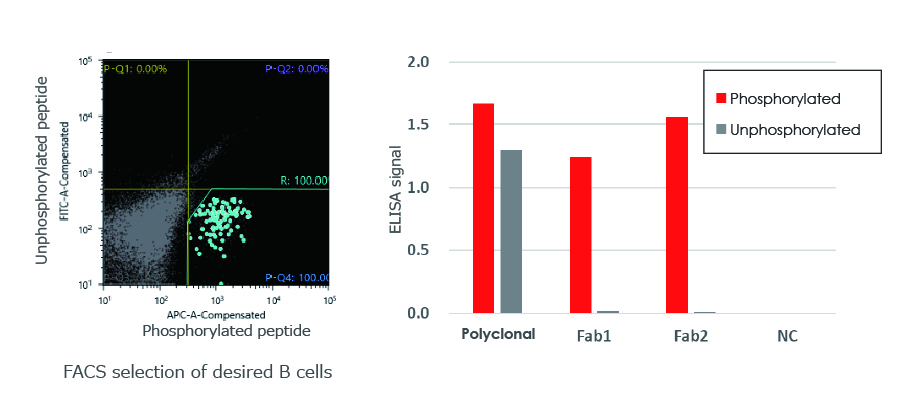 Antibodies obtained (Fab1, Fab2) selectively react with the target phosphorylated peptide.
Monoclonal antibody detecting slight amino acid sequence differences
Obtained monoclonal antibodies distinguish between slightly different amino acid sequences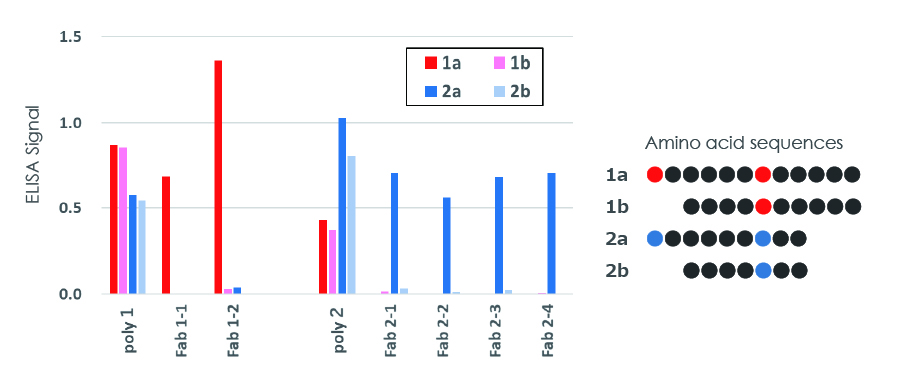 Rabbits immunized with antigens 1a and 2a produced polyclonal antibodies (poly1 and poly2, respectively) with low specificities.
Monoclonal antibodies (Fab1-1-Fab2-4) obtained from these rabbits showed strong specificity for the target antigens.
Human Monoclonal Antibody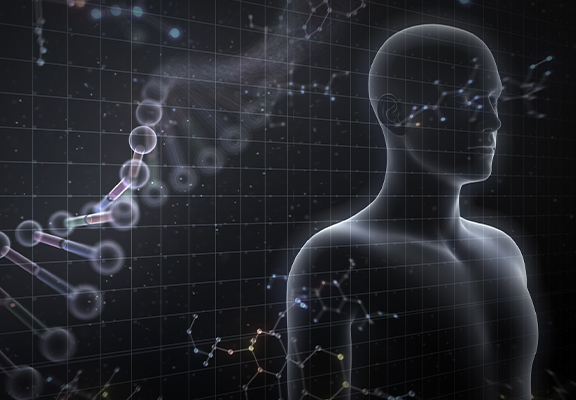 Human antibodies attract attention as drug candidates because they are less likely to induce unwanted immune responses in the human body, unlike antibodies obtained from animals.
Humans produce antibodies that bind disease-specific molecules at the lesion site. Therefore, these human antibodies are expected to be used as highly specific probes for identifying disease markers.
Furthermore, isolating human monoclonal antibodies is an effective approach for determining pathophysiology and etiology. For example, abnormal antibodies directly cause autoimmune diseases, and patients' antibodies against infectious viral diseases, like COVID-19, affect the related symptoms. Isolation of these antibodies is expected to reveal new aspects of disease and immunity.
Achievements of monoclonal antibody isolating from humans using "Ecobody" technology
Monoclonal antibody recognizing a solid tumor
Target tumor-binding monoclonal antibodies were isolated from the cancer tissues of a solid tumor patients

Obtained natural human antibody (#2) strongly binds to multiple lines of human cancer cells
Fluorescent immunostaining of xenograft cancer tissue of a model mouse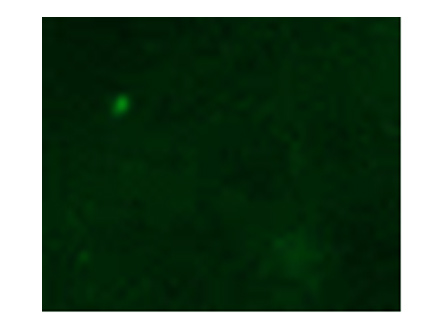 Control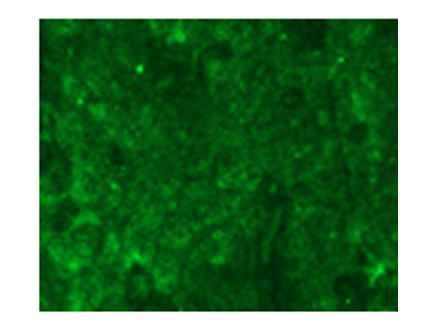 Antibody(#2)
Antibody obtained from a tumor patient is applicable for cancer tissue immunostaining
Monoclonal antibody against SARS-CoV-2
The monoclonal antibody (MO1) with neutralizing activity against diverse SARS-CoV-2 variants(D614G, Delta, BA.1, BA.1.1,BA.2, BA.2.75, and BA.5) was identified from blood samples of infected individuals.
Neutralizing activity of the antibody MO1 against Omicron BA.5 variant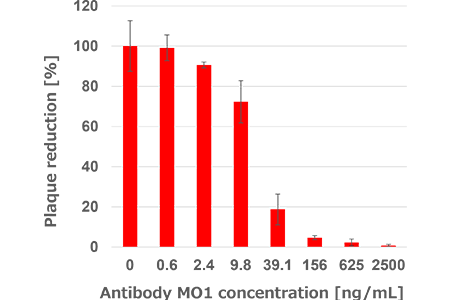 Antibody MO1 inhibited the viral proliferation in a concentration dependent manner.(The data was provided from Prof. Yasuko Mori of Kobe University)
Three-dimensional structure of the antibody MO1 binding to the target spike protein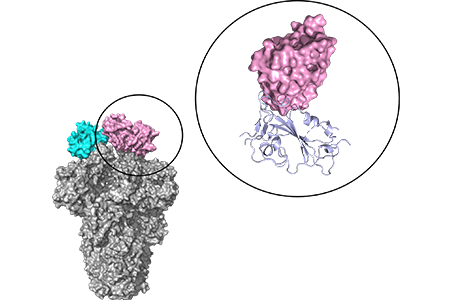 The antibody MO1 recognizes common sequence to various mutants(D614G, Delta, BA.1, BA.1.1, BA.2, BA.2.75, BA.5)MO1 bound to the purified target RBD proteins of BA.2 and BA.5 variants with the dissociation constants(Kd)of 3.3 nM and 11 nM, respectively.(Figure created from public information on PDB 8h3n)